I don't really read manga, but I was just thinking to myself about Citrus because I think we all know that this anime is going to be so fucking explicit and I can't wait! It's been a very long time since there's been a shoujo-ai that truly focused on the romantic and sexual aspect of the female characters. In fact, Strawberry Panic and Valkyrie Drive(to be fair, VD is more of an yuri which Citrus will probably be) are really the only ones that I can think of that did a good job at bringing us both of those elements. I know Citrus is quite sexual in nature from just glancing at images both original and fan art alone so I'm really excited to see how this anime turns out, more than likely it will turn out AWESOME!
I totally put Kantai Collection up there on my list of my favorite shoujo-ai animes. Although there is nothing explicit such as kissing or sex scenes, the romantic feelings the female characters have for one another are there, and it's real, and emotional. I mean last season, a couple of characters even died; it's a gut wrenching historical, sci-fi anime. I'm looking forward to see how the story, the plot, and the characters developed not only over time, but also with one another in the show for season 2.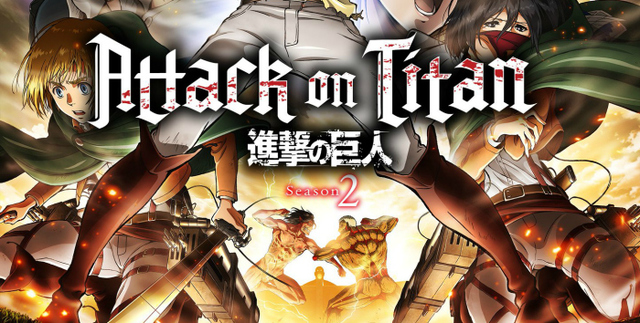 Finally, almost four years later and we have season 2 of Attack On Titan. This anime when it came out in 2013 was a total hit online among anime fans. When the first season ended, there were two movies that were released which didn't do so good, but there was also a chibi anime that did decent, and of course, the video game as well. I'm looking forward to this anime because it's one of the rare, authentic, original shounen animes to come out in a long time. Since Attack On Titan, the only other shounen I watched was One Punch Man and soon I'll be watching Boruto. Although there are obviously not any shoujo-ai elements in this anime, there are actually two female characters that seem to have a relationship with one another. I forgot their names but they're my favorite characters along with Connie and Sasha-you know the one who's always eating and getting into trouble? LOL Love it; I can't wait to watch!
Here we go; I don't know those two girls names but they have a shoujo-ai thing going on and I want to see more of them….I drooling over them. This is a fan art by the way. =D I think their names are Freckles and Christa…not sure.