So Out Last 2 came out last month on the 25, 2017. I totally didn't even know about it until I was browsing Steam to find games to watch on Youtube. (I finished Styx: Shards of Darkness. Next game is of course, Injustice 2.) So I saw the game and since I really enjoyed the first one, I figured I'd watch the second one. Boy, was I disappointed!
The story was predictable where the main character goes into a village where two cults are feuding, and he has to save his wife in the process, who is also about to give birth to their child.
1.) The main character didn't know she was pregnant and in the beginning of the game, you see her stomach is flat as a button yet at the end, she's pregnant and she gives birth.
2.) Does she really give birth? At the end, his wife dies bleeding out and he's hallucinating that he's holding the baby while in fact, he isn't.
3.) He hallucinates, and has numerous flash backs to when he was a kid in Catholic school and witnessed the death of a female friend named, Jessica. These flashbacks are so repetitive and so boring, it was frustrating for me to watch.
4.) It was just boring. The walk through has been uploaded so you can totally see it, but it's not a game I would have bought. It was so bad for me that I barely want to waste space by talking about it on here.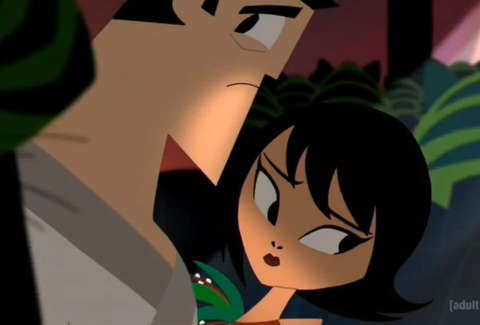 So Samurai Jack finally gets laid two weeks ago with the female character by the name of Ashi. I think we all knew that was going to happen, and I think most of us agree that it should because it's about time that he got a girl. It is a bit weird though because in the beginning he was a father figure to her when he had the renege look going on. Yet once he went back to his old self, not only was he more likable in my opinion but apparently Ashi thought so too.
I like that she fell for the humble, modest, clean cut Jack. We usually see women going for the bad boys, and usually American male heros are often obnoxious, cocky, and sometimes even rude and Samurai Jack is none of those things. It's refreshing to see that for a male character. And it's refreshing to see a woman respond positively to that.
So I became friends with this Japanese girl within a couple of months, and she's a lesbian(we're just friends, she has a girlfriend-she is very pretty though). Well the thing she was telling me they do in Japan, but not in western countries: are females who are sexually and/or romantically attracted to other females will cruise each other, or as she says, "cottage"/ "cottaging".
In the United States when you think of cruising, you usually think of gay men hooking up at parks, restrooms, theatres, lakes, etc. There's even a website where gay men can go and rate locations that are best suited for cruising. But never does one hear about women doing it. I mean the most a woman will hook up with another woman is either at a bar/club or online, but never a public restroom, parks, lakes, parking lots, sex shops, etc. However, it happens in Japan and quite often.
It's not something you'll be able to Google at least not in English anyway, but in Japan, women will meet with other women and even young school girls on the subway, or near public restrooms, what they call public toilets. Most females are open to it regardless of sexual orientation because to them, in Japanese cultural, sex is sex regardless of who it is. It's very common in Japan for people to separate love from sex, something that is rare in the United States especially among women.
There are signs that other females will give other females like a slight touch, or a long stare, a whisper in the ear, or they will wear clothes that are revealing that will allow other women to enter(penetrate) them if they desire. Even on public, full subway trains, females will often have sex right there with another female.
Then there's futanari girls. First, I thought futanari were she-males/ladyboys/trans women who use their dicks-no, that is not what that means in Japan. Shemales/ladyboys in Japan are called t-girls/t-women(usually) not futanari. Futanari girls/women are females who wear strap ons underneath their clothes in both public and private settings. They're tops and can often orgasm as well while partaking in the act. Sometimes they will rub their toy cock on other girls on a train, etc to let them know they're interested in sex, and sometimes they do it right there, or they go to a public restroom and do it there.
Some futanari women will even create their own cocks, some that even ejaculate as well; in fact, my Japanese friend told me that's what futanari really means, women with ejaculating strap ons. I was utterly shocked by everything she was telling me especially since I thought homosexuality  among females was looked down upon in Japan, which is still true. She told me older professional women who work for big corporations or an office will seek out younger girls, or will sleep with their female secretaries. She told me about all-female sex parties she used to attend, and that she's very disappointed that women don't do that here in the U.S.A.
You know what-I'm very disappointed as well.