First, Happy Martin Luther King day; it is a day that I realize so much that is going on in this country really isn't all that big of a deal compared to what many went through prior to the civil rights movement of 1964. All the way from African Americans being beaten or lynched for trying to vote, from having dogs attacked on them and water hoses sprayed at them all while protesting on the streets, from having opposed forces harass and assault them at non-violent sit ins, etc. If it weren't for that movement, I don't think I would be here since my parents are of two different races and even nationalities. Each were brought up on two different languages. There's no way I would be here if MLK and others hadn't achieved what they did for us. So thank you, Martin L. K. Jr!
In the new Assassin's Creed: Odyssey DLC, characters Kassandra and Alexios have children. Kassandra gives birth and Alexios gets a woman pregnant. This wouldn't be a big deal if it weren't for the fact the DLC forces you to have this child even if you decline. Some fanatics might even say that's rape. Either way, in the AC game, players can choose for Alexios and Kassandra to be heterosexual, homosexual, or bisexual but the DLC doesn't give players that choice. That means if a player was playing a homosexual Kassandra or Alexios, they were forced into a heterosexual relationship-"for the sake of the plot", Ubisoft explained.  They even went back to renamed the badge that was called Growing Up-talk about a slap in the face, Ubisoft:
…As you continue the adventure in next episode Bloodline, please know that you will not have to engage in a lasting romantic relationship if you do not desire to.
Yeah, too bad you still have to engage with a kid that was forced upon you. I see why the developers did it, and it makes sense since the core part of the game is tracing back DNA ancestry; however, they should have either added in an 'adoption' option-something like Horizon Zero Dawn, a different set of dialogue to make it clear, or just not add the sexuality choice to begin with in the game. (I haven't bought the game yet. When I do, I won't be getting the DLC buuuuut that's because I don't buy DLC at all so-.)
Divide in the LGBT community, and I'm not referring to that drama that was going on in San Francisco and the Harvey Milk LGBT Club; nope, I'm talking about drag kids. Yes, you heard me right, drag kids.
Desmond is Amazing is becoming one of the most iconic kids of his generation when it comes to pushing gender norms and stepping over the line in the LGBT community, but it doesn't come with some side eyes, and glared eyebrows. You have people on the right shaking their heads screaming, "pedos", and you have people on the left saying, "yassss queeaaan, slaaay". The video that started it all:
The issue that I have besides the right over exaggerating and the left not wanting to discuss this situation fully, is you have a child who is about eleven, performing at an adult night club at one or two in the morning. So I don't know how many of you been to a gay club, but I have back when I was in college and some of the things that go on there or at any adult night club is drugs, sex, and of course, alcohol. For the most part, everything is public in the establishment from taking drugs openly to even having sex openly; in other words, this is no place for a child. Even if the club did their best to make it "child friendly" and even if the mom "kept him backstage with her", no, a child shouldn't be at an adult night club at that time in the morning(or anytime really)-no.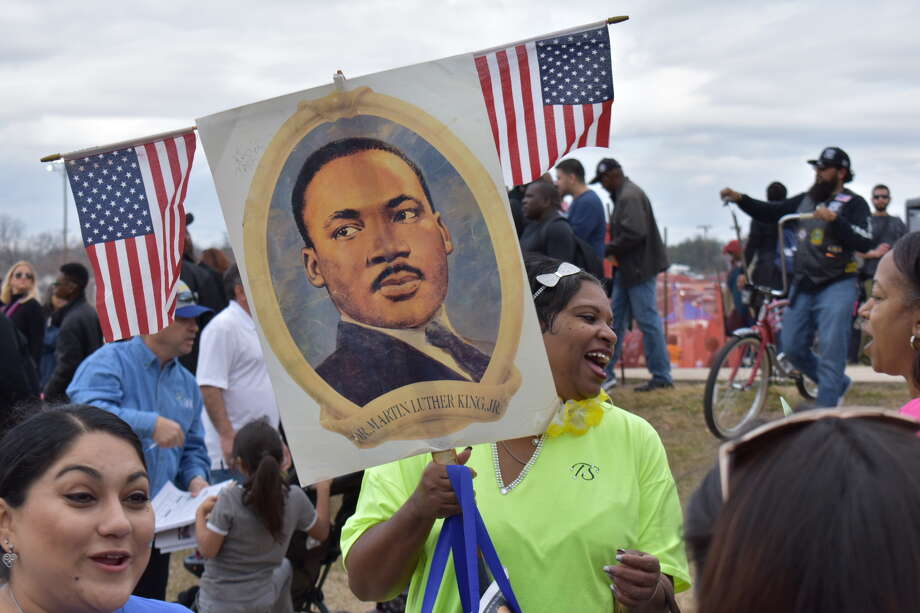 As reported by Kens5, with over 300,000 people attending, San Antonio has the largest if not one of the largest MLK turn outs. I actually have yet to attend a march on MLK day, but I have attended protest through out my young life, nonetheless, I'm some what shocked yet not surprised to learn San Antonio has one of the largest marches in this country. One reason I'm not shocked is because San Antonio is pretty diverse when it comes to racial groups and ethnic groups, but am shocked because the Latin population is higher than the rest, and there tends to be animosity between the black and Latin communities. I don't have any sources to back that up though-just personal experience.
Not shocked though because unlike other deep south states and cities, San Antonio was able to easily integrate because of the high amount of Catholics and religious values of humanity and civil rights movement. San Antonio was also one of the first cities to start de-segregation; it was easy because the city didn't really practice segregation anyway, as this article points out. And you know what, I think it does have to do with the high Catholic and Latin population of the city. Even though now just like then, the black and Latin communities had their differences, at the end of the day, they were able to come together to make a significant change to the city that benefited all. Good job, San Antonio!